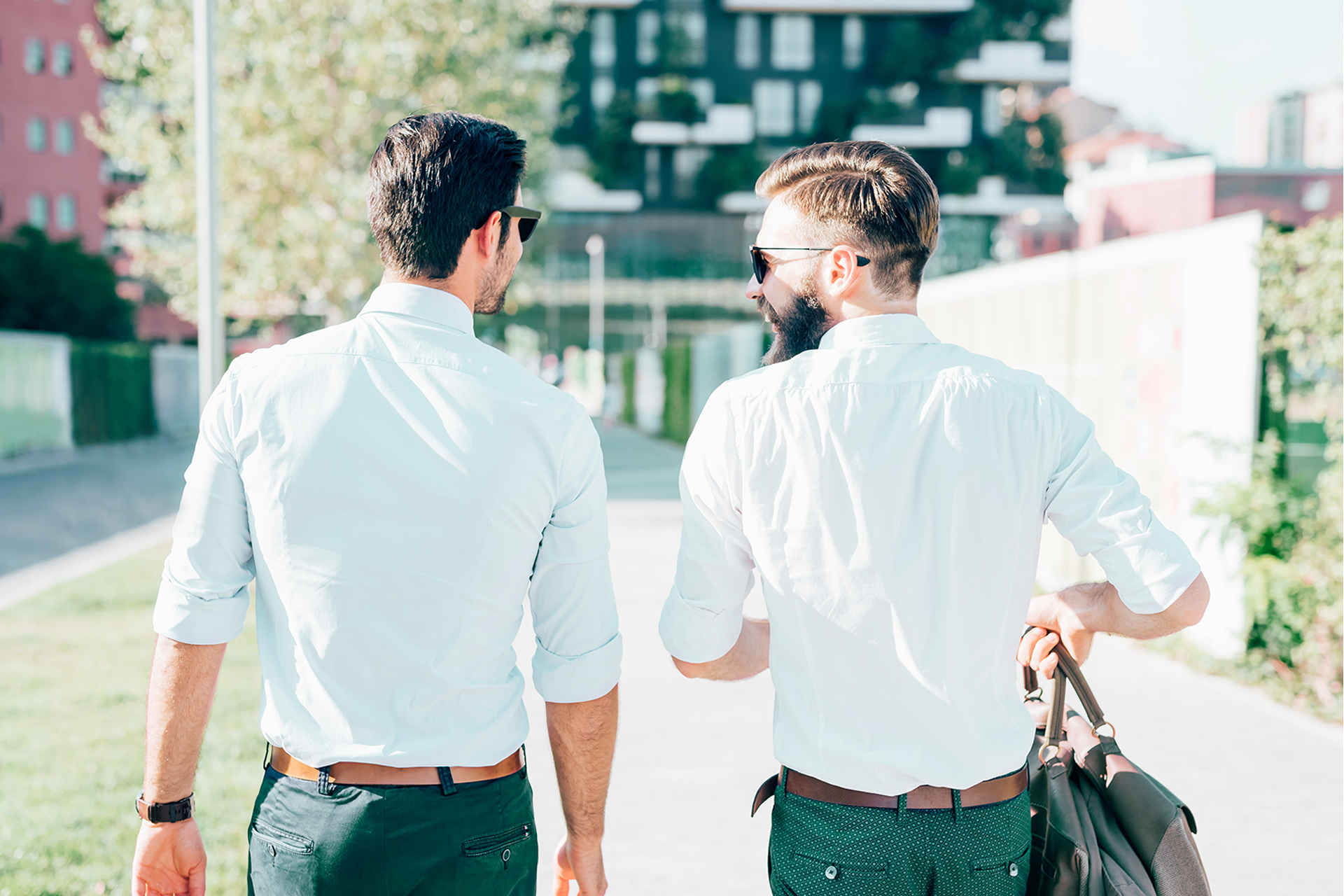 Proof You Can Run A Successful Startup With A Friend, Make Money From Day #1 And Live Happily Ever After
Want to generate 4-8 times more leads from your website? Request a demo
Here at Leadchat, we're not just about live chat platforms or live chat in general.
Although chat is what we do, we're people too.
We were founded by people. We're run by people. People work for us.
And people like you wanna know who the heck we are and where the heck we came from.
This is our story. We don't just want to take your money, we want to help you too. As people.
You know what, unless we're making you WAY more money than we're charging you, we're not right for you.
We want YOU to be making the money.
Anyway, I'm Courtney. I say this because I'm the voice of Leadchat.
I'm not Leadchat though, I'm a tiny part of this growing ecosystem.
The Baby With Two Daddies
Gary and Michael are the people that birthed this baby.
Like actually conceived it in their minds and then laboriously pushed it out until it was the fully fledged thing it is today. 
But it's still a baby per se.
It's growing at a rapid pace, though.
It's learnt its first words and it's starting to run after just learning to walk.
A toddler, then, maybe?
There's so much growth and so much to be excited about we couldn't ever possibly contain it here.
But anyway, first up is Gary. Co-founder numero uno.
Baby Daddy One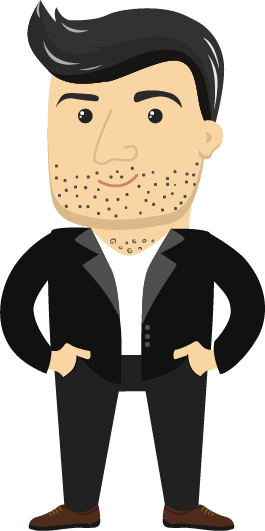 Gary's background is in sales.
And of course it is, you only have to meet Gary for a matter of minutes before you realise he could take the pen out of your pocket and sell it back to you again.
You wouldn't even question it.
Hell, you'd think you'd gotten the best deal in the whole world.
That's Gary in a nutshell, I swear to god.
Gary founded Face2Face Global 14 years ago and has trained literally thousands of direct sellers Australia wide.
As a company, they kicked ass. They kicked ass with direct, instant sales. Daily. Killed it. Typical Gary.
His "minions of selling" put tens of thousands of dollars into the heavy pockets of companies like Citibank, American Express, and GE money.
Fortune 500 kind of stuff, you know?
It wasn't enough though. He was burnt out and beaten down. He wanted out.
It was 3am on that fateful morning when Gary woke up.
Literally and figuratively.
He finally woke up and thought, "would it be possible to sell product or services for a company WE owned?".
Now, the second part of this proverbial 'we' is Michael.
Capitano numero dos.
Baby Daddy Two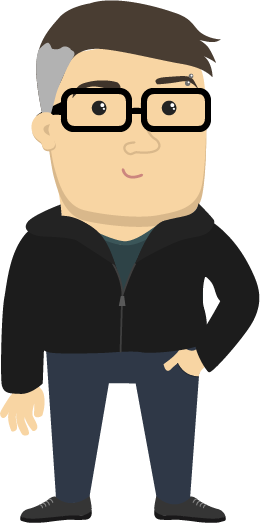 Michael and Gary have been friends for a long time.
Actually, they used to flog their stuff for money when they were but wee little boys.

I think possibly they came out of the womb trying to make something of themselves. But I can't be sure.
So Michael has entrepreneurial DNA running through his veins, obviously.
Michael owned an audio/visual equipment rental business before the existence of Leadchat.
The business had had ten solid years of existence, but like food on a shelf, had started to expire.
Sales had plateaued and Michael was just like you know what? I'm out. Later.
But before he could extrapolate himself and move on to the next thing, there was a huge hurdle.
The sales team was super small and carried a hell of a lot of risk.
If a salesperson up and left, Michael knew that they would take their customers with them.
And as a business model, that's pretty crappy. It's not self supportive.
Sales needed to be owned by the company and not the salesperson. Sales also needed to be online.
And lastly, they needed to GROW. NOW.
A year and a half is a really long time. It's a long time to spend on one single thing.
But that's what Michael did, he optimised his SEO, Adwords, email and smashed out as much quality content marketing campaigns as he could muster with his time and money.
Finally, the traffic was satisfactory. The website was THE largest source of new customers.
HELL YEAH! Right?
No. Wrong. You're wrong. He was wrong. It's all wrong.
With a monthly spend of between $10k and $15k Michael had hit complete and utter saturation.
No amount of money that he threw at it facilitated any growth.
Actually, to be utterly honest, the more he spent the lower conversions were. What the hell?
A/B testing, landing page optimization, and limited navigation options only increased conversions marginally. It wasn't good enough.
There had to be a solution.
There had to be a way to overcome the somewhat mediocre level of achieved saturation.
Not only that, but where were online sales heading?
There was pieces of the puzzle that both Gary and Michael were feverishly trying to put together.
That "Well, Sh*t!" Moment That Changed EVERYTHING
You know how in the movies, the main character always has a melodramatic epiphany?
It comes like a tonne of bricks and you know from that point on the movie isn't going to be the same?
Well, in LeadChat's movie adaption it was exactly the same.
Except this was happening in real time, in real life, to two normal, if not out-of-the-box, people.
"We need sales people". Well, obviously.
But cold calling people isn't the exactly the most ground breaking sales method is it?
Not traditional "sales" people doing traditional sales.
Sales people on websites. Live. In real time. Assisting customers like the 2IC does in your regular apparel store.
And there you have it.
Live chat comes into the picture and changes Michael and Gary's lives forever (I told you LeadChat is like a baby).
Madeleine was Michael's virtual assistant at the time, and so she sat on Michael's old site for a week.
8am to 8pm, all she did was work as a live chat agent.
It's not thrilling stuff, but it's probably the most thrilling test Michael and Gary have ever done.
For a week, Madeline conversed with prospects and the results were mind-blowingly good.
How good?
800% increase in lead conversion good. THAT GOOD.
Gary humbly palms it off as "just a fluke". And that's a direct quote.
But when you add together the willingness to start again, do better, and test, I'm not sure LeadChat can be attributed to pure luck.
In a mere couple of weeks with chat across all landing pages (with no more money thrown into ads or SEO strategy. Not one little bit) revenue had doubled.
And LeadChat was born. A baby in a big world of live chat platforms.
This Really Really Really Works
As with many small start ups, there are wins and losses. It's a continual ebb and flow of success and failure.
The failure is the most valuable part though, because that's where you learn.
You test and learn. You hack and learn. You move forward and keep growing.
Gary got in touch with some people over at Sling & Stone (formerly Click PR at the time).
He told them about his little baby that was getting traction and asked for help.
Sling & Stone are a PR agency for only the best start ups full of disrupters, entrepreneurs and status quo-challengers.
Their reply was simply, no. We won't work with you right now.
LeadChat had had some small wins and a tiny bit of PR, but it wasn't going to be enough.
A fully-fledged PR campaign was needed to get this baby bigger.
So, instead, Sling & Stone showed Gary what to do.
They sent him the information he would need and released him back into the wild on his lonesome.
What does any Co-Founder of a small start up do when they are rejected? They do it themselves.
They hack and work and grind tirelessly.
And so LeadChat's PR campaign was done internally with a little guidance, so Gary can probably add budding PR rep to his resume if he would really like to.
From this came an interview with Nina Hendy.
Nina is an Australian business journalist who is often commissioned to write about business, marketing, entrepreneurs and startups.
This little press win saw 50-60 new leads for LeadChat itself in the week following Nina's coverage.
As Gary aptly put it, "It was just working. This hacked together, bootstrapped thing".
Within these 50-60 brand new leads in one week, LeadChat managed to snag one of it's favourite customers.
The Art of LeadChat's Charm
LeadChat was designed to be B2B traditionally. So business-to-business.
Gary didn't want LeadChat to ever be associated with any websites that were "spammy".
That's why originally LeadChat was only for other start ups or businesses seeking to use live chat platforms.
But Jordan Harbinger approached LeadChat.
And Jordan was different because he was actually a podcaster. But he wanted to grow.
And he wanted to grow then and he wanted to grow fast.
Jordan was the podcaster behind 'The Art of Charm'.
He is literally the real-life 'Hitch' (you know, that Will Smith movie where he teaches guys to pull girls).
Anyway, Gary goes away with this lead and he digs around.
He's walking with his kids down the beach one morning and before he knows it he's literally listened to half of Jordan's podcasts and his kids could have floated half way across the Pacific Ocean (they didn't. It's fine).
He was absorbed. He was convinced.
The Art of Charm was a cool idea. Not only that, but Jordan Harbinger delivered and his advice was sound.
LeadChat services the Art of Charm website to this day, 24 hours a day 7 days a week.
And Jordan is one of Gary's favourite, because of his early faith in LeadChat and his ability to make Michael and Gary see that LeadChat did not have to be strictly B2B.
Also, Jordan likes to tell LeadChat where they're good, where they suck, and what's happening with the Art of Charm's leads and conversions that week. Which is awesome.
LeadChat is by Real People, For Real People, Staffed by People
The best way to tell you about LeadChat today is to show you what the people who work for LeadChat say.
More than that; how they think and feel about LeadChat.
They are the people that sit across multiple platforms and garner leads for LeadChat's clients like true rockstars.
This information was given to me anonymously, and so it will be passed to you anonymously.
This is all verbatim, straight from the amazing people that work for LeadChat.
It is unedited and raw, and says a vast amount of thing about LeadChat today, two years after Gary and Michael gave life to their idea.
When we asked one Chat Agent why LeadChat exists, they said:
"We exist because we want to help customers who have websites to increase their sales by converting their site visitors into leads."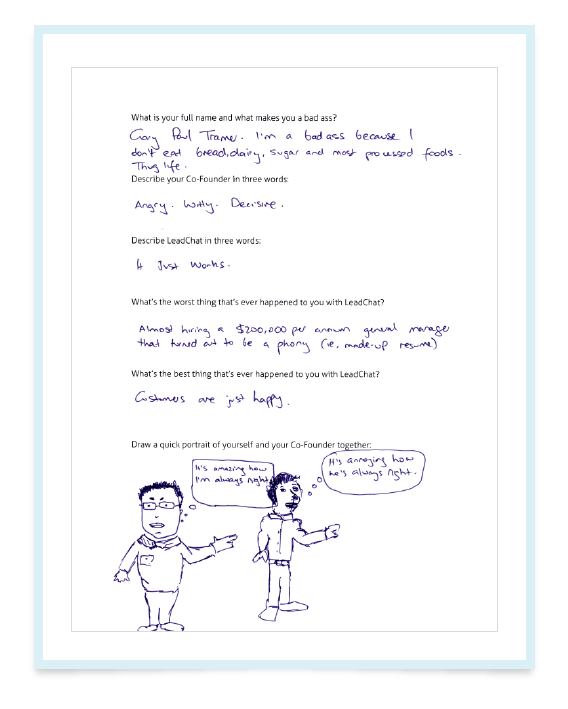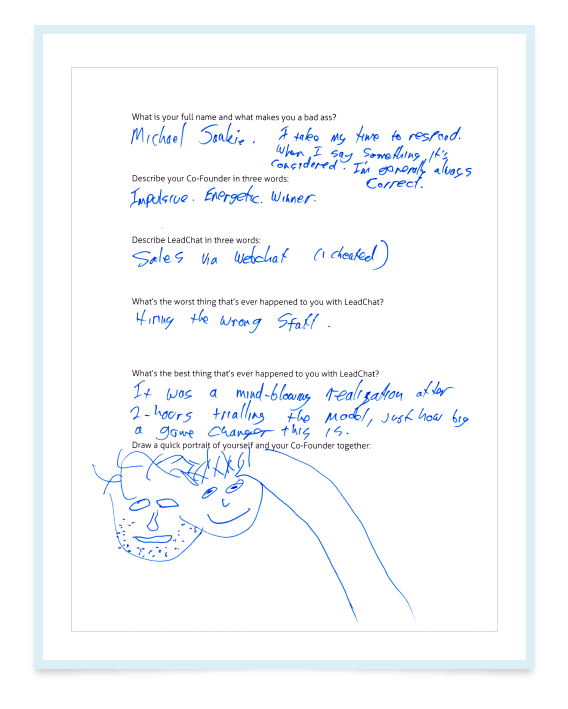 "For those groups with pure customer service support, we exist because we want to help their customers address their issues in a timely manner and to have a positive customer experience while in chat."
When asked what it is LeadChat believes in, another gun Chat Agent said:
"We believe that providing excellent customer service through chat will generate satisfied and loyal customers, thus providing more business for your company."
I could not make these answers up if I tried. And on that note, I could not have put it better myself.
Gary tells me earnestly that, in the beginning, LeadChat didn't have an audience.
They didn't really know what they were doing.
"Sales were slipping through the cracks everywhere. Telling people that you can leave information and then get back to them is just insane".
LeadChat is two years old now. A toddler. Not yet a baby still learning to walk.
Constantly learning, growing and improving.
Gary and Michael have taken this idea and nurtured it tirelessly. It's pretty amazing, when you stop to really think about it.
I would like to leave you with this quote from LeadChat's Product Manager:
"Each member of LeadChat is an Agent for Improvement and constantly be striving to help make LeadChat the world CHAMPIONS in website lead generation."
World Champions in website lead generation.
Who knows? We're still working on it.
Hungry for more leads? Use chat agents to turn web visitors into hot leads all day, every day. Request a demo.